We were newbies to the campervan world and over an hour away from home when we saw A1 campers. How glad we are were made a spontaneous decision to explore and learn. Andrew and his team could not have been more helpful, patient, answering all my basic questions, and so knowledgeable. The team were generous with thier time and expertise. When a van came in, just right for us, Andrew told us, got it all ready, adapted it and checked it all out mechanically. We felt in safe hands and have been delighted with the purchase of our van and the after sales support. Huge thanks and I highly recommend A1 campers. Added a real bonus to our retirement!! Thanks. 2021
Having decided to buy our first motorhome we trolled the internet for several weeks to try to find the best we could within our budget and suitable for our needs. We found A1 Camper Conversions site and dismissed what was in stock as being not really suitable for our needs. As time went by in the pandemic, the choice available generally was rapidly reducing and the costs seemed to be going up so there became some urgency in our quest.
A1 Camper Conversions ad came up again and there was a motorhome now that might be suitable so we jumped into the car and made the 2 hour journey.
How glad we were, we met Andrew and he could not have been more helpful or knowledgeable and it soon became obvious that the motorhome would suit our needs and was well within our budget. We bought it there and then, and Andrew arranged to have it delivered once all the vehicle checks had been completed.
Thanks Andrew, it has been a pleasure.
This is our first campervan and we are absolutely delighted with it. When we first saw the van it was in the process of being renovated inside and we could not believe the difference when only 2 weeks later we saw the finished product. We were overjoyed as it looked brand new again.
The whole experience has been totally positive and we recommend A1 campers to anyone who's looking to buy one.
We've just come back from a wonderful trip to Dorset and look forward to many further adventures.
Thank you to Andrew and the A1 team for all their help and advice.
I had a rib bed installed at A1 Campers this weekend in my T4, excellent product and fantastic value for money, from the first contact with Andy and Carol and also with the workshop engineer Chris on the day, I can confirm the service is personal and very proffessional, I am very impressed with the quality of workmanship and I would highly recommend A1 Campers and thank them for their fantastic service.
New California
We bought a brand new VW California Ocean T6 from Andrew and I can't recommend the company's service or knowledge of the product highly enough. Andrew's incredibly helpful and enthusiastic and after having scoured the web for California Oceans, I have to say the van we bought was not only super-high spec but also very keenly priced as well.

Also big hat-tip to Carol who keeps the ship on an even keel and (apologies forgotten your name) the chap who runs the workshop.

Thoroughly recommend this dealer.
Robin Kellett-Navellou
, 15 Mar 2020
New California
Bought a new California from Andrew and the team at A1. The service was first class. Their great knowledge and advice was invaluable and made the purchase a great experience. I can't recommend A1 highly enough. Thanks to all the team. Andrew
New California
Two weeks ago, we purchased our T6 California Ocean 199 DSG from A1 Campers. From our initial telephone call, Andrew actively listened to our queries and responded in a friendly, honest and unassuming manner. When viewing the vehicles, he showed immense patience, allowing us ample time to deliberate and scrutinise the campers.
As this was our first ever purchase of a campervan, Andrew took his time to demonstrate the many features on the camper, whilst also sharing his years of knowledge and experience of the vehicle. Advice and tips were freely given on what accessories to buy and what was really not required.
A1 provided an outstanding customer service that went above and beyond. Thank you Andrew for a lovely vehicle at a great price and for making the whole experience so easy and such a joy!

hi everyone just bought a new california ocean from andy at a1 campers and i must say the service we got was 1st class , if you want to buy a camper this is the place to go .
frank and tina nicholls ,
New California
We have recently bought a new VW California from A1 Campers and wanted to take this opportunity to share our genuine pleasure at the exceptional way the whole process has taken place.

We live in the Highlands of Scotland and wanted to upgrade our older California to a new model. Being Scottish we were, of course (!), very keen to get the best deal we could find and had been seeking prices and options from franchised VW dealers; both local and throughout the UK.

We came to A1 campers via an advert and positive comments on the VW California Forum and although we were a little nervous given their non franchised status and near 500 mile separation, we enquired and spoke with Andrew Hill.

It soon became clear that we had found something special; their product knowledge and access to the ever dwindling stock of new T6 vans was exceptional and before long Andrew had sourced several vehicles that met our specification. What is more the prices offered were dramatically lower than the best we had found elsewhere.

Although Andrew was willing to take our van as a trade-in he suggested we would be better served to sell our van through him on a brokerage basis. We delivered our old van to Andrew who inspected, serviced and prepared it for sale. He then advertised it, dealt with all the enquiries and after only 2 weeks had secured a sale for us.

After Andrews (very reasonable) costs of service / preparation and brokerage we received a net sum almost £4k better than the best trade in figure we had been offered by any other dealer.

The combined effect of the brokerage sale and the exceptional new vehicle price has meant a net "cost to change" price which is almost £7K less than anything we could have achieved via the franchised dealer network!

Perhaps even more importantly we have been treated with great respect, patience and understanding throughout the entire process. Andrew and all at A1 campers have been a pleasure to deal with acting with professionalism and integrity at all levels.

I therefore have absolutely no hesitation in highly recommending A1 campers for their highly competitive pricing but perhaps more importantly for their exceptional level of customer service and ongoing care.

New California
Just bought a new VW California from Andrew.

The Service has been fantastic and everything went to plan exactly as described.

He is a real VW camper expert, thanks for your time showing me how everything worked.
After service has also been great with any questions answered promptly.
Many thanks.. Stuart 12/02/2020
Ford Galaxy
The part exchange we purchased from A1 Campers has been a great car .
The deal itself was very competitive and the transaction ran smoothly .
Carol made several great cups of coffee and Chris did a great job with the vehicle preparation .
Thanks all .
New California
Our search for a new California was made simple from the first call to A1. Sourcing / Ordering and collection was a smooth process.
Perhaps the best way to assess excellent customer service is when (after payment and collection) things don't go quite to plan! Then you truly find out how supportive your supplier is and on this point we can say A1 lived up to our expectations.
Thanks Andrew and Carol !
Steve & Lisa H
, 08 Jan 2020
Swift
Recently bought a Swift caravan. Andrew was very professional, honest and helpful. Travelled a long distance to view, Andrew was very welcoming and answered all my questions with detail. Great service
Many thanks 19/12/19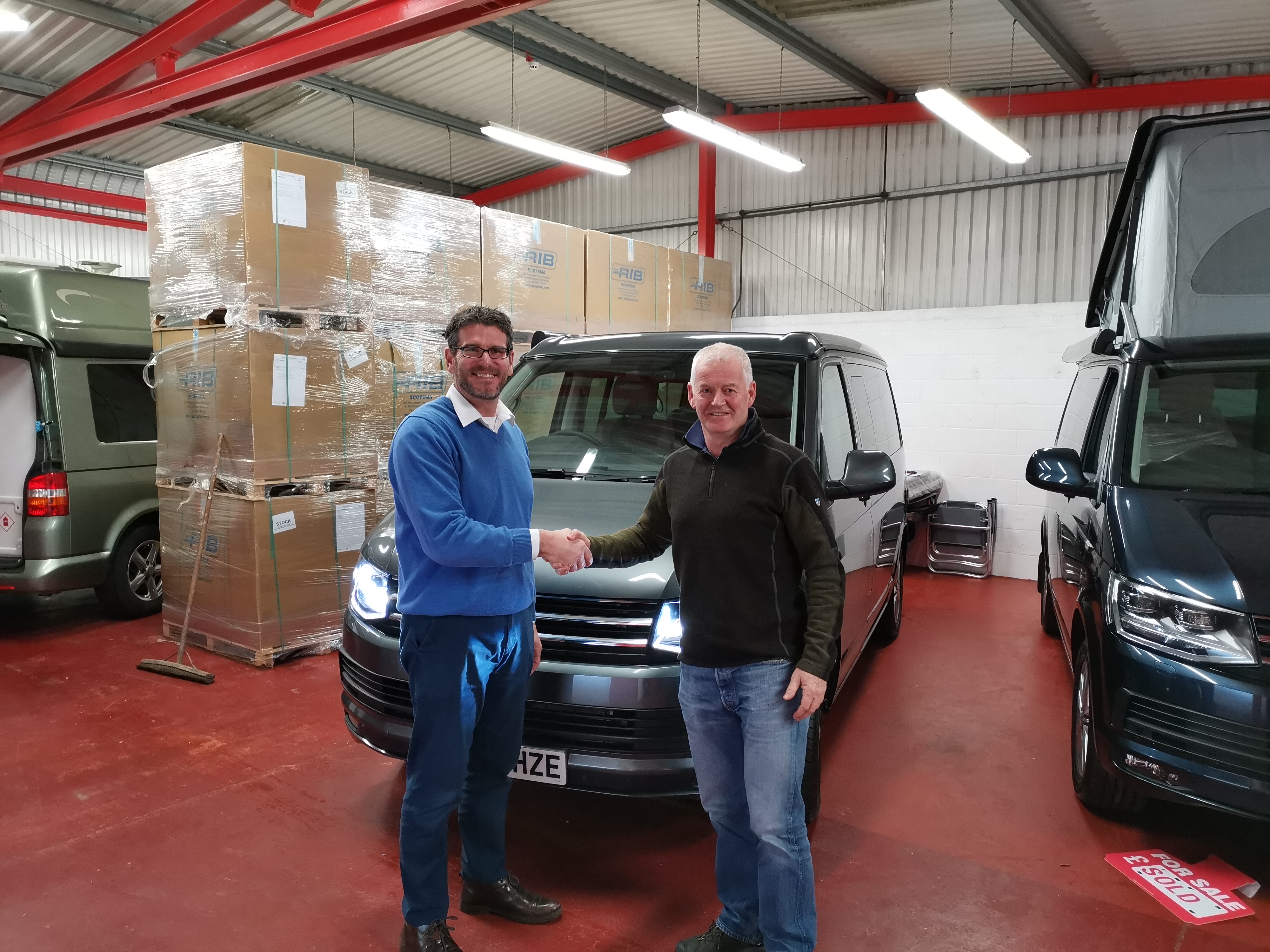 New California
Recently bought a VW California Ocean DSG 199 from A1 Campers and found the whole process very professionally and expertly completed. Andrew, and his team, are very knowledgeable about the VW range, and as I was buying unseen, from long distance, I felt reassured by the responses to my queries. Great choice of vehicles, service and competitive prices. Many Thanks.
Raymond Mackeddie
, 18 Dec 2019
A1 Campers installed a RIB seat into our camper van, replacing our previous none ISO Fix seat. The setup in our camper van was not ideal to the seat but they got the job done. We are more than happy with the work done.
Looked at a variety of Camper / motorhome options and suppliers. Opted for A1 Campers. Partly just really liked one of the Campers they had for sale - their own conversion. They buy quality nearly new vans from Lister's. Finish and design superb. Friendly and efficient proprietor and staff who gave sound advice to a campervan novice. Excellent after sales support and servicing is available.
Highly recommend Andrew and the team at A1 Campers.
Vehicle is immaculate, and I am over the moon with the Camper and the service received from Andrew and Team.
Andrew at A1Campers is very knowledgeable and super helpful. He sourced me a new VW California at a very respectable price, but much more importantly has set everything up beautifully and made sure its all just right and ready to go. Highly recommended.
I have recently purchased my lovely California from A1Camper conversions I couldn't be happier. Mick and Andrew and Carol have just been brilliant. Andrew has expert Knowledge on the campers and very happy to answers questions and help. We really couldn't be happier. I really don't think you would get the customer service and after sales from anywhere else better than here, nothing has been too much trouble. Andrew and his team also sell new Californias which is great to know as when we do purchase a new one in the future I will definitely be buying from Andrew. Thank you
Collected a vehicle yesterday from Andrew & his team, had not seen the vehicle prior to collection. Andrews description of the vehicle was spot on. The whole process was made very easy by this customer service orientated business. I look forward to doing business with them again. If only all companies were run this way, life would bee easy. Thanks Guys.
Paul Young Wyrequalitycars
I recently bought a VW camper from Andrew and his team at A1 Campers and was delighted with both the product and the service. A highly professional and friendly company. Thank you!
8/12/2019
We are very happy with our purchase of a Volkswagen California from A1 Campers and are looking forward to lots of adventures using it as our base.

Andrew's knowledge of the more technical details of the water system, solar panels, maintenance was really helpful for someone taking ownership of their first camper van.

We were picked up from the station which made the collection process much easier. Our vehicle was well presented and we were shown around the van explaining how everything worked and surprisingly most of it stuck as they gave clear simple instructions and most importantly got the media system working so we could navigate back to Edinburgh.

Carol made all the correspondence easy and was always there to help with advice.

A1 Campers are a great team and made the journey to buying a camper van a positive experience instead of a stressful one!
Excellent service and value from Andrew Hill - I bought a new VW California Ocean 199 DSG from A1 Campers, the price was over £12000 less than the VW list price. When I came to pick up my Cali, I was collected from Peterborough station by Andrew's wife. A true family run business delivering value and great customer service. Thank you A1 Campers keep up the good work.
Best service you could ask for
By June nayar | 06 July, 2019
Good friendly service bent over backwards to help us to decide no pressure to buy all staff helpful
Would recommend A1 campers if you are thinking of buying a new or used one